Smile Please! An FME student studies the effect of abrasive toothpastes on dental fillings
When Pavla Formánková smiles, it's a smile like from an advertisement. You certainly wouldn't tell about her how much she suffered with her teeth. Among other things, it was her patient's experience that led her to the topic of her bachelor's thesis, in which she examines the effect of abrasive toothpastes on dental filling material. In other words, how much your desire for a whitish smile is related to how quickly your tooth seal fades.


"This little square is a sample of the composite material that is used to make white dental fillings these days. In the laboratory, I measure how much the abrasive particles in the toothpaste affect how much material from the sample is lost. The measurement has three phases: first I scan the surface of the sample with a profilometer to obtain an input image, then the sample is cleaned in an ultrasonic cleaner and the measurement is performed on a tribometer," Pavla Formánková describes and how he clamps a cassette with a small sample of dental filling to one side of the device and a holder with a toothbrush head above it.


For another 260 minutes, a tribometer works instead of Pavla, in which a toothbrush with a selected paste is rubbed against the sample with regular frequency and force, thus simulating brushing teeth. And she also performs a small spell over time. "Those 260 minutes correspond to cleaning one tooth surface for 8.5 years, if we brush our teeth twice a day," Pavla says. After more than four hours, the sample goes again for cleaning and scanning with a profilometer. Finally, the student compares the images before and after and measures how much material from the sample has decreased.
Biotribology
Biotribology examines the processes of friction, wear and lubrication in living organisms and at the interface between biological and artificial surfaces. It is a multidisciplinary field that includes aspects of biology, surface physics, materials, chemistry, biomechanics and engineering in general.
The results of her measurements are used for the further research by physician Petr Šikula from the Dental Clinic of the University Hospital at St. Anny in Brno. A joint scientific article in the Czech Dental Journal was also published on the use of tribological methods in dentistry. We will probably hear more about the use of similar experiments in the development of new materials for dental prostheses or in the development of toothpastes. For example, biotribologists from FME recently won a research project for the development of dental varnish, which is applied after dental hygiene, and will work on it with the cosmetic company SynCare Plus, s.r.o.
With one foot in medicine
The experiments that Pavla Formánková performs in the laboratories of the Institute of Design belong to the field of biotribology. It builds on the use of knowledge about friction and wear, but in living organisms. Pavla agrees with this connection. She was tempted to study medicine, but enjoyed mathematics and physics more. She is now studying Fundamentals of Mechanical Engineering and deciding whether to pursue a master's degree in biotribology or to focus on biomechanics. She was thrilled by the combination of engineering and the living world.
However, there was another reason for Pavla's research. As a patient with teeth, she suffered a lot. "As a child, I had a badly built jaw, so I didn't bite all my teeth together. It wasn't until my jaw surgery solved it, but until then my teeth were very worn out, except for the level of the dentin and nerve endings. It was very painful," she recalls. Because she is the holder of a number of dental fillings, she is also interested in the offered topic of the bachelor's thesis in a purely practical way.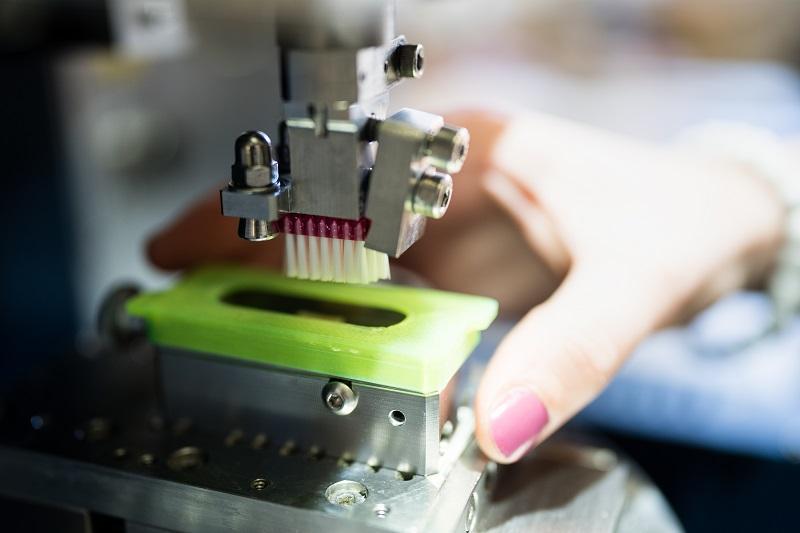 The abrasiveness of toothpaste is determined by the RDA (Relative Dentin Abrasion) value, the higher it is on a scale from 0 to 250, the higher the ability of the toothpaste to remove dental plaque and pigmentation deposited on the tooth surface. But as Pavla Formánková found out, and agrees with foreign literature, the answer is not that simple. "The measurements show that abrasiveness depends not only on the RDA value, but also on the shape of the abrasive particles, their arrangement, whether they clump together and the density and hardness of the toothbrush bristles also have an effect," the student explains. "The truth is, I think about it more now shen I'm buying a new paste," she adds with a laugh.
Due to a demanding bachelor's degree, which included, among other things, twenty-five eight- to nine-hour experiments, Pavla had to limit her sport. She says she doesn't regret it yet. "I probably won't make a living from sports," she says with a clear head, adding that thanks to the movement, which includes BUT's national representing in swimming, she is clearing her head of teeth cleaning research.
---