Project detail
Spolupráce VUT v Brně se základními, středními a vyššími odbornými školami
Duration: 01.02.2014 — 31.12.2014
Cílem projektu bylo přilákat především nadané absolventy středních škol ke studiu na VUT v Brně. Stejně tak i žáky základních škol zapojit do procesu vnímání prostředí, ve kterém žijí, motivovat a podpořit jejich tvůrčí invenci formou soutěže na téma: KDE SE MI V BRNĚ (NE)LÍBÍ. Úkolem soutěžících bylo vyjádřit vnímání města Brna a poznat, kde žijí, kudy chodí do školy a jak vypadá jejich okolí. Měli nakreslit, vyfotit nebo popsat svá oblíbená místa. Zamyslet se, co v jejich městě je správně a co by se naopak mělo změnit. Všímat si ulic, náměstí, parků, sportovišť, ale i špinavých zákoutí, odpadkových košů nebo starých továren. Každé takové místo má svůj příběh a každý příběh by měl být vyprávěn. Měli se zamyslet nad tím, jaké pocity v nich Brno vyvolává.
Description in English
The aim of the project was to attract especially talented high school graduates to study at BUT. As well as elementary school students involved in the process of perception of the environment in whoch they live, motivate and encourage their creative ingenuity by competition - o topic WHERE I (DON´T) LIKE IN BRNO. The competitors had to express perceptions of Brno and know where they live, go to school and their favourite surroundings. They draw, photograph or describe their favourite places. Think about what in their city is right and what would in turn be changed. Noticing streets, squares, parks, sports facilities, but also dirty conners, bins or old factories. Any such place has a story and every story should be told. They had to think about what feelngs Brno raises.
Keywords
prostředí, město, veřejný prostor, soutěž
Key words in English
environment, city, public spaces, competition
Ministerstvo školství, mládeže a tělovýchovy ČR - Rozvojové programy MŠMT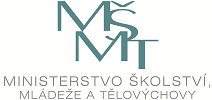 - whole funder (2014-02-01 - 2014-12-31)