Project detail
Výzkum a vývoj nového elektromagnetického hladinoměru pro tekuté kovy
Duration: 01.05.2004 — 30.11.2006
Elektromagnetický hladinoměr je základním článkem automatické regulace hladiny v krystalizátoru při plynulém odlévání kovů. Stabilita hladiny zásadně ovlivňuje kvalitu kontislitku. Výzkum a vývoj nového elektromagnetického hlainoměru s vyššími užitnými parametry, především s vyšší dlouhodobou stabilitou a spolehlivostí měření, vyšším uživatelským komfortem a sníženými nároky na montáž a údržbu.
Description in English
Electric mold level detector is a crucial component of the automatic mold level control at continuous casting of metals. Mold level stability influences fundamentally the quality of část product. A subject of the project is research and development of a new electromagnertic mold level detector with higher utility value, in particular with better longterm measuring stability and reliability, user friendliness and with reduced demands for installatation and maintenance.
Keywords
hladinoměr, plynulé lití, měření hladiny, forma, vířivý proud
Key words in English
molten metal; continuous casting; mold; level measurement; eddy current
Ministerstvo průmyslu a obchodu ČR - IMPULS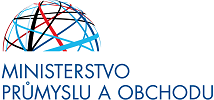 - part funder (2004-05-01 - 2006-11-30)