Printed violoncellos are played by a philharmonic concertmaster or a hockey player
Did you know that when a violoncello player travels with the instrument, they must buy the instrument its own flight ticket? That gets expensive and not even an extra fee may be enough to alleviate the fear of an instrument which is sometimes worth hundreds of thousands of Czech crowns getting damaged. Last spring, a new product arrived to the Czech market which can easily fit in a violin case. Many fans of classical music would think it too bold and perhaps doomed to failure, but the 3D printed violoncello made by a BUT graduate raised over a million Czech crowns in a public fundraiser campaign and also made an appearance at the stage of Brno Philharmonic.
"Vanessa-Mae also doesn't care that Stradivari didn't use a certain violin manufacturing process 400 years ago. She aims to innovate and be interesting for the young generation, to play differently," Jan Tobolík smiled to the camera from the meeting room of his Přerov-based company, to which he returned after studying at the then Faculty of Electrical Engineering and Computer Science of Brno University of Technology. On the table next to the screen, there is the central focus of the conversation - a violoncello printed to order in 100 hours using 3D printing. There are no traditional curved shapes, carved holes and warm lacquered wood, the main thing that betrays that it is indeed a musical instrument are the strings stretched over a red plastic fingerboard.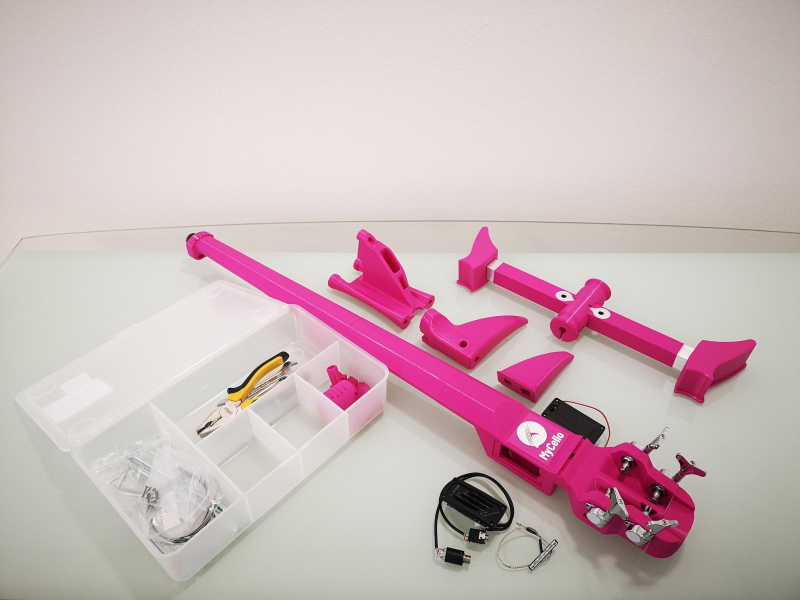 The force behind the idea was the Coronavirus crisis combined with the popularity of 3D printing. But instead of face shields, Jan Tobolík and Ondřej Kratochvíl began to print musical instruments on their printers. The idea first came to Kratochvíl who not only plays violoncello but also teaches it. "During the pandemics, my colleague had to stay at home and he couldn't practice. Well, he could, but his neighbours in the building wouldn't be thrilled about it. He wanted to buy a silent cello, but he didn't find any that was suitable for his needs on the market," Tobolík remembers last year's spring.
Both of them knew that in order to make both neighbours and musicians happy, they have to move the bowed string instrument's sonorous tone away from apartment building's corridors into headphones. They designed a cello with only the most basic parts needed to play it, i.e. a chest, hand and knee rests and an end-pin. Within the body of the instrument, they installed electronics and pickups including connectors for headphones and a speaker. Their pricing can compete against the cheapest alternatives available on the market but, in their own words, the benefits leave all competitors far behind.
FOUR VIOLONCELLOS IN A VAN AND STRESS
"When my colleague needed to travel to a concert with a band including four violoncellos, they had to take a van. He wanted a cello that can be folded like a swiss army knife," Jan Tobolík pointed out another advantage, adding that their cello can fit inside a violin-sized case. This will not only help during travels but it will also save the backs of school children who carry their instruments from their homes to music classes. MyCello, as the project is called, is manufactured in six sizes and the youngest customers are about five years old.
But the main advantage of MyCello does not lie in its portability or the option to have it printed from a glowing material, but the creation of a top-of-the-line instrument tailor-made for its player. Because violoncellos do not have frets like a guitar, for example, players learn to flawlessly orient themselves on the strings thanks to haptic memory. The moment the curvature of the place where the musician rests their thumb changes even slightly, the musician has to get used to the new instrument for a long time before they can master it again.
SWIMWEAR, SUNSCREEN, MYCELLO
"When we measure six parameters, we will create a relatively cheap copy of a wooden instrument. You can take MyCello with you on a vacation or play at home without disturbing anyone," noted Jan Tobolík, adding that their ambition is not to replace traditional violoncellos, but supplement them in situations where a wooden instrument is just not suitable. "We have a customer who owns a yacht and wants to practice while on vacation at sea. His wooden cello has always come unglued, which cannot happen to this one," laughs the IT expert.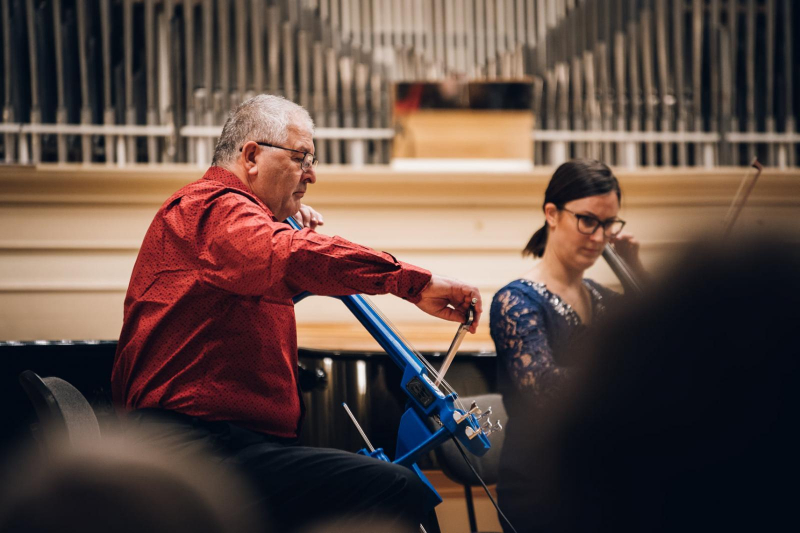 So the cellos made by the Přerov entrepreneur are not just an eccentric addition to the apartment? "I was honoured when the Brno Philharmonic concertmaster, Pavel Šabacký, bought MyCello in the initial crowdfunding campaign. This year marked the end of his 38-year career and during his farewell event, a violoncello quartet played nearly half of the compositions on our cellos. He played a classical instrument for 38 years and, at the very end of his career, he has shown he is not afraid to give modern technology a try," bragged the BUT graduate. However, 3D printed cellos are not just for professional musicians: "We have customers who said they thought about playing violoncello but it was our MyCello that made them try. One of them is a Přerov hockey player."
Another step is to try to print metal components, place a model line with better pickups on the market or figure out how to set up the 3D print so that the plastic does not dampen the sound, but rather carry it. "We have a printed functional double bass prototype. People have been asking us if we can manufacture a viola for them," admits Jan Tobolík contently and notes that if there is enough interest, musical instrument innovations may not stop there.
---